Our Story
Sarah created Style Infusion in 2007 after returning to the UK having lived in both the South of France and Washington DC where she took influence from the design and architecture in both countries, suffusing it into her diverse style.  As a company, we absorb design and interiors in everything we do and permanently look for inspiration in our daily lives.  To say Sarah lives and breathes interior design would be an understatement.  Her passion thrives in all she does and her belief in creating a home that works tailored to each individual client is inspiring. 
We're a UK based company with our Design Studio nestled in the heart of the Cotswold's. Our projects are primarily scattered throughout the UK with our main focus being in London, Kent, Gloucestershire and the Cotswold's.  Style Infusion continues to expand with global projects in the US, South of France and The Alps.  Our work takes us to locations worldwide where we exclusively develop and design prestigious homes.
Our Approach
Viewing each project from an architectural and a design perspective, we pride ourselves in producing exceptional and detailed design solutions, taking a project from initial conception through to the finished home.
Our aim is to make everyday living both comfortable and inspirational by creating designs that are not only sympathetic and appropriate to the building design but also ensuring they reflect the personality and style of our clients.  Sarah loves working with her clients to echo their tastes and preferences whilst introducing new and exciting ideas and concepts.
Our Team
In order for a project to be successful, our team must echo our drive and passion to deliver something extraordinary.  We believe in our strong web of developers, suppliers and contractors to mirror our fervour for excellence when designing a clients dream home.
Our design studio on the outskirts of Chipping Norton houses our showroom displaying an extensive wallpaper and fabric library and our design office, a key labour force in our creative scheme. We take great pride in offering a friendly and approachable interior design service and welcome the opportunity to begin our design journey together.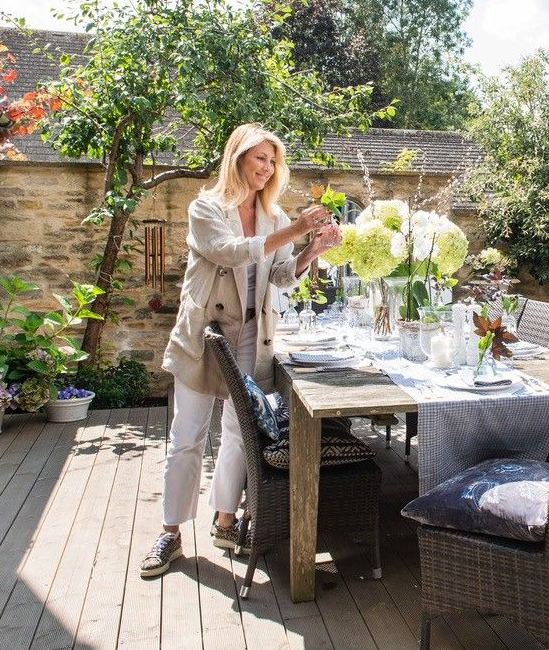 Sarah Allchorn
Owner & Managing Director
Sarah is a creative talent and has a passion for what she does. This manifests itself in a very high work ethic – she will always go the extra mile. She has an incredible spatial awareness and puts herself in your shoes to help find the optimal tailored solution to fit your family's needs, with a healthy dose of comfort and style. She is a positive force, solution oriented and a pleasure to work with.